I have never hosted a Thanksgiving dinner, and I don't believe I will as long as we live in this tiny house. The house is too small, and the family is too big. However I always do my part and contribute to the Thanksgiving dinner, wherever it may be. This year it is at Uncle Marshall and Aunt Sheila's house. I have elected to bring 3 yummy dishes.
Baked Corn

3 well beaten eggs
1-1 1/2 cup milk
1 tablespoon sugar
2-3 cups corn (fresh or frozen)
salt and pepper

Mix all ingredients.
Pour into a buttered baking dish.
Bake at 350 for about 45-55 minutes.
Harvest Pumpkin Apple Bread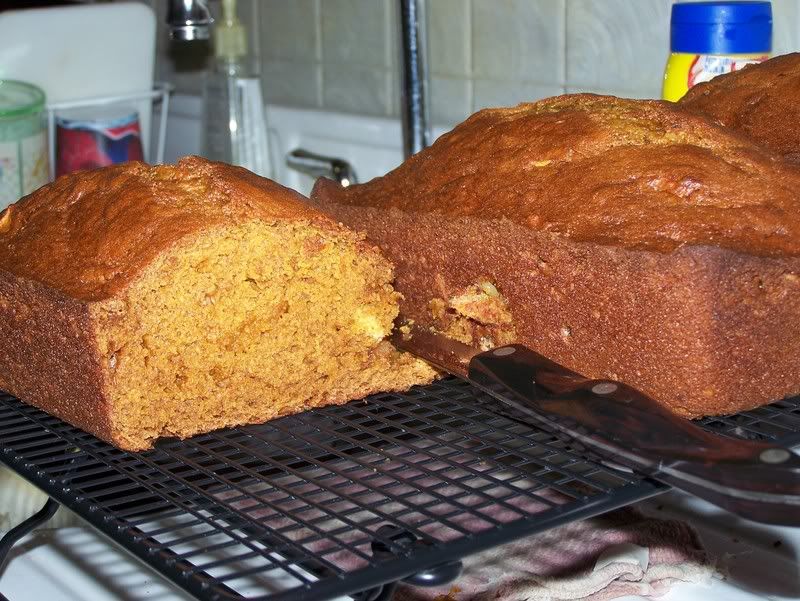 3 cups all-purpose flour
2 teaspoons ground cinnamon
2 teaspoons baking soda
1 1/2 teaspoons salt
3 cups granulated sugar
1 can (15 oz.) Pumpkin
4 large eggs
1 cup vegetable oil
1/2 cup apple juice or water 1 large baking apple, peeled, cored and diced
PREHEAT oven to 350° F. Grease and flour two 9 x 5-inch loaf pans.COMBINE flour, cinnamon, baking soda and salt in large bowl. Combine sugar, pumpkin, eggs, vegetable oil and apple juice in large mixer bowl; beat until just blended. Add pumpkin mixture to flour mixture; stir just until moistened. Fold in apples. Spoon batter into prepared loaf pans.BAKE for 65 to 70 minutes or until wooden pick inserted in center comes out clean. Cool in pans on wire racks for 10 minutes; remove to wire racks to cool completely.

Orange Dream Jello Salad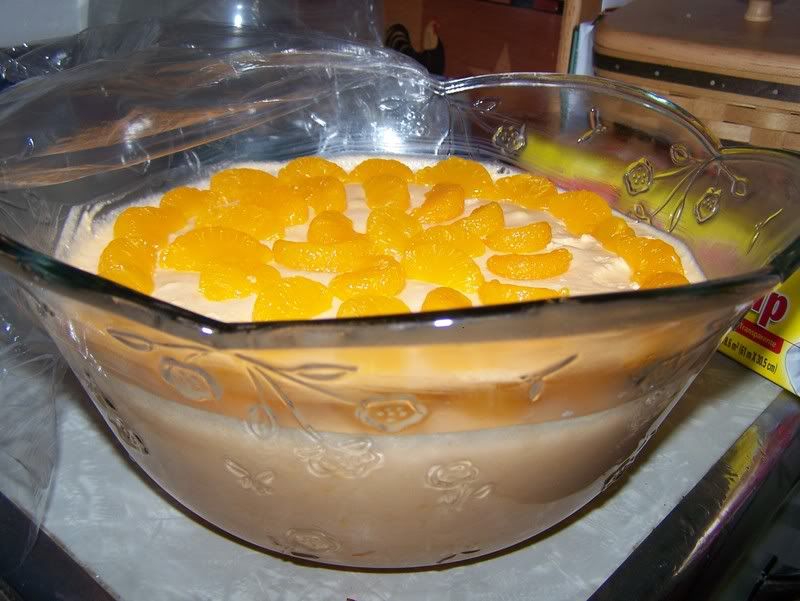 1 large box of Orange Jello mix
1/2 cup water
8 oz Cream Cheese
1/4 lb Marshmallows
1 can evaporated milk
2 large cans Mandarin oranges
1 large tub of Cool Whip
Over medium heat stirring constantly, cook water, jello, cream cheese, and marshmallows until smooth. Remove from heat. Add evaporated milk. Drain mandarin oranges. Blend in blender for few seconds. Add to jello mixture. Stir in tub of cool whip. Let set in refrigerator for several hours. Garnish top with oranges.